What lies behind us and what lies before us are small matters to what lies within us.
– Ralph Waldo Emerson
Self help motivation is needed by everyone every day. That is why this category is here. I want my web site to encompass all aspects of a healthy, wealthy life. I love all things to do with this subject and to truly be wealthy you need to work on yourself anyway, to be happy within and exude it without .
I have done an enormous amount of work on my personal development and I certainly wouldn't be the person I am today without it. I subscribe to most of the newsletters and daily motivational messages I have listed here. I would be lost without them. I love all these guys and I hope you will too and that they help you too.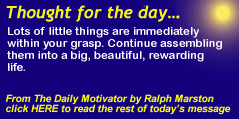 Mr. Rohn has been called one of the most influential speakers of our time and rightly so. I have heard him speak and I love his powerful simplicity.
I also highly recommend that you subscribe to his weekly emails like me because I find them very helpful. He is one of those speakers who walks his talk. He keeps it simple and straight to the point which is why he is so popular. His self help motivation is the best.
He has been on the seminar circuit for over 39 years and has addressed over 6,000 audiences to 4 million people worldwide. He has also written over 17 different books and produced many excellent audio and video programs.
I have many of his CD's and books and highly recommend them to you. His weekly newsletter is invaluable for your personal life and business life.
Shipping: Worldwide
Customer Service Review:I have bought many products from this site many times. They are very fast, super efficient and the products are incomparable. Highly recommended.
Wallace D. Wattles was born in the mid 1800s during the War between the States. He experienced a life of many failures until — in his latter years, after tireless study and experimentation where he formulated and put into practice the principles laid out in The Science of Getting Rich.
People who have studied and applied these principles throughout the 20th century have experienced remarkable results: They have gotten rich!
Why not let one of the success stories be you!
Many of todays leaders in the field of personal development have heard of this man and this book and they teach these principles.
Shipping: Worldwide